Company Background
Hiawatha Tree Services Inc. was founded in 2010 by Ben Heller and his wife Melissa. Ben is an ISA Certified Arborist with over 25 years of experience and a lifelong love of trees. Ben and Melissa's son, Justin, has been working several years full time after working summers while in school and has been around and in this work all his life. Our equipment is currently based in Minneapolis, where we can serve homeowners, commercial property owners and municipalities throughout the Metro area down through Prior Lake and beyond.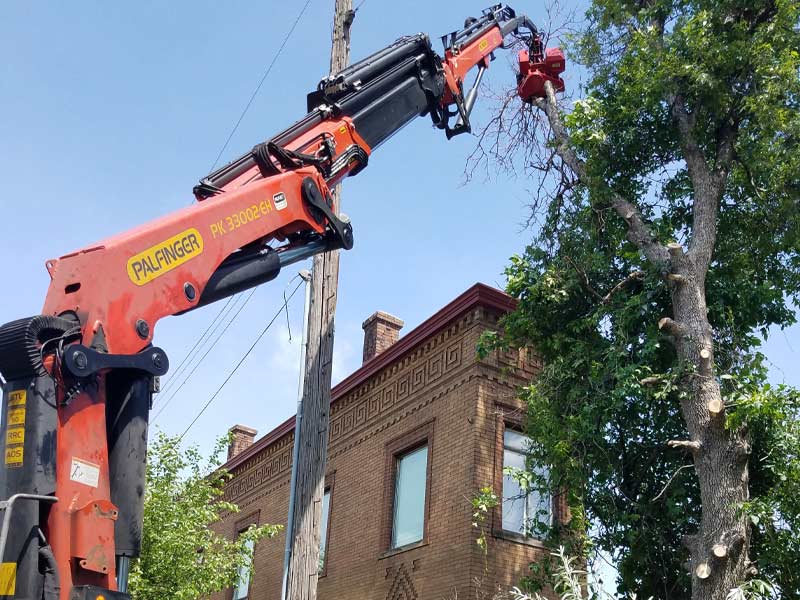 From the very beginning, we have invested in mechanized methods for handling tree debris. In 2016, we became the first company in Minnesota to own a knuckleboom crane with a grapplesaw. Since then, our focus has transitioned to only providing tree removal services and we no longer do pruning work. Today we are the area's leading experts in mechanized tree dismantling in built up areas. We specialize in the removal of trees in difficult situations and tight spaces using technologically advanced equipment for the protection of your property and its surroundings. Yes, we are good at removing trees in open spaces too!
What Makes Us Different
Here is what we bring to the jobsite beyond our state of the art equipment.
Experience & Knowledge: With our experience level and technical proficiency, we have the confidence and capability to remove many trees which pose greater challenges to other companies without our specialized equipment.
Careful Analysis: We take time to recognize hazards and situations that can lead to damage and then implement a strategy to mitigate those hazards to avoid incidents of damage.
"Can Do" Attitude: Our "can do" attitude comes to the first site visit to come up with a plan to accomplish the tree removal. Sometimes we can make a way where there seems to be no way.
Attention to Detail: We take pride in maintaining a neat and orderly work area without harming delicate landscape features or structures. Our work process helps contain the mess to under the tree and in the landing zone, not all across your yard.
Respect: We respect the homeowner, residents, neighbors, and the earth, and we always have our customer's best interests in mind.
Meet Our Team
We invite you to get the know our father and son team.
Ben Heller
Owner & ISA Certified Arborist
Ben has been involved in the tree industry from an early age. From logging with his father and brother during high school to doing fine pruning of trees in downtown Minneapolis, he has been involved in many aspects of the industry. Ben earned his Certified Arborist certification in 2002 (MN-4025A) and maintains membership in the ISA, MSA and SCA. An NCCCO certified Articulating Boom Crane operator, Ben has written two articles about Knuckle Boom Cranes and Grapple Saws which have been included in the TCI Magazine (published by a national organization of arborists). With over eight years served in the United States Army Reserve, Ben worked as a Wheeled Vehicle Repairer, wrecker and recovery specialist and squad leader. He also attended North Central Bible College in Minneapolis after high school.
Justin Heller
Tree Removal Technician/Equipment Operator
Justin has been around and involved in tree care since he was old enough to ride along with his dad in the log loader truck or bucket truck. For the past two years he has been working full time in the business and worked summers and on school breaks while in high school and college. Justin operates the log loader with the Mecanil tilting grapplesaw among other duties and has proven to be an invaluable and major component of Hiawatha Tree Services. Justin attended The University of St. Thomas where he studied Business Management.